All these are facts, and have been verified both through fossil evidence, and through DNA research. Today, there is practically no reason to doubt the above. But is there any connection of all this with anarchy?
Oh yes, there is. Be patient, let's move on.
The red part of the earlier colored line represents the most recent 10,000 years. We'll soon see which earth-shattering event occurred there, in the purple part, which led us to the red one, but now let's concentrate on the long blue part, which is of special importance to us, because as I said above it's the "anarchic" stage of our existence. Why do I call it that way? How were our ancestors living back then?
They comprised, as I said, various tribes, and the way in which they led their lives today is called "the hunter-gatherer stage". This means that men were the "hunters" (don't imagine anything like hunting with bows and arrows, those were invented in the last 60,000 years; nor any dogs, since humans started domesticating the wolf in the last 50,000 years, and only where wolves existed; stones and clubs were the early hunters' only weapons). And the women were the "gatherers", i.e., they were staying at the tribal camp (which moved from place to place over the years), and were collecting both the game that men brought to them, as well as plants (seeds, etc.) that they were gathering by themselves. (Men, too, would often bring plants, roots, etc., as a result of their "hunting", it wasn't always meat that they would bring.) Women were responsible for distributing the food to the members of the community, and of course with the raising of the children. Men and women had approximately the same social status; the system was neither strictly patriarchal, nor strictly matriarchal.
How do we know all this? Simply, because this way of life is still in existence. There are still hunter-gatherers in many places of the world, such as in the Amazon jungle, in sub-Saharan Africa, on several islands of the Indian and Pacific oceans, and elsewhere. Anthropologists go and observe the way of living of those people and announce their findings in journals and conferences. Their observations almost always require confirmation by other, independent teams, before being accepted as facts.
So we make the reasonable assumption that today's few hunter-gatherers have not changed their way of living in some essential aspect, and thus we get a glimpse of how our ancestors used to live by observing some of their modern descendants. Note that this assumption is not unreasonable at all. As the world changes, it doesn't change everywhere simultaneously, because there is no reason for such global-scale change to happen. The world changes only where conditions are ripe for change. Meanwhile, the older ways of living continue to exist where the conditions for change were never met.(*)
Now, regarding the "governing system" of the hunter-gatherers, we can't really talk about such a thing because there is no central authority, no police, nor judges, nor prisoners, nor guards. And the reason why all these do not exist is very simple: because no one has food available to feed them. At the hunter-gatherer stage every member of the tribe works for the food they consume, and for that only. They don't work to feed anybody else (save for their children, and for the fact that they share their food with the rest in the rare event that there is plenty of it). Consider, how does a lawyer feed him/herself today? Do they produce the food they consume by themselves? Of course not. The lawyer produces and sells "air". Ditto for the judge, the insurance agent, the military officer, and the computer programmer. This doesn't mean that the work of those people is useless! Of course it is useful because, due to the way our society is organized, some people are interested in using this "air"; indeed, some people depend entirely on this "air". But in the hunter-gatherer's society the selling of "air" has no luck. The intra-societal micro-conflicts are resolved in an elders' council, and that's all. Note that there are micro-conflicts only, since there are no large properties, hence no large interests either.
Please read once more those two paragraphs from Wikipedia at the beginning of this text now, and tell me if they don't agree to the tee with the description of the hunter-gatherer's society.
Now, you might think that we could have an anarchic society without becoming hunter-gatherers ourselves. Or could we? Don't hurry to reach conclusions, please read further.
Let's see what the earth-shattering event was, which happened around 10,000 years ago, and led the human population to develop classes among its ranks, leave the hunter-gatherer stage, and grow immensely, so that from a few hundred thousand individuals to reach several billion in our times. To appreciate what "from a few hundred thousand to several billion" means, and since a single picture is worth a thousand words, look at the diagram below, which shows how human population grew in the last 150,000 years.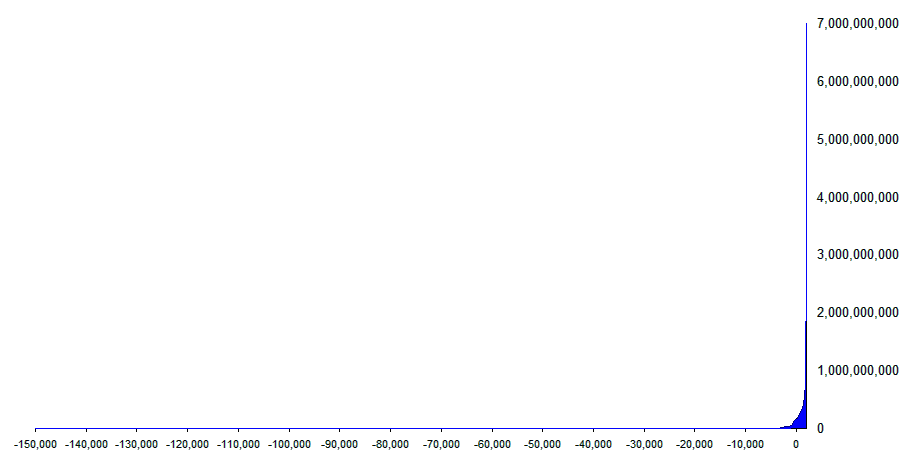 Time runs along the horizontal axis, so that -150,000 means: one hundred and fifty thousand years before Christ. The number 0 corresponds to the year 1 A.D. or 1 B.C. — it makes no difference — and the "present" is at the rightmost edge. Our population is on the vertical axis. So we see that the population was nearly zero (coinciding with the horizontal axis) for the best part of our existence as Homo sapiens, started rising a few thousand years B.C. (blue corner, on the right), and reached unprecedented heights from there on, growing exponentially. What happened and caused this explosion?
The thing that happened was the gradual passage from the hunter-gather to the farmer mode of subsistence. (And when I say "farmer" I include animal husbandry; simply, because there is no single word that includes both farming and animal husbandry, we talk about "farmers".) The transformation was, as I said, gradual; that is, it did not happen that a hunter-gatherer woke up one day and thought: "What a beautiful day today! Instead of hunting, I think I'm gonna plant some seeds!" No. What really happened, most probably, is that in some places of the world where the conditions were suitable — we'll see which those places were — people (women, most likely) observed that seeds which fell on the ground from the collection process sprouted after some time and yielded more seed. It must have taken thousands of years for the practice of planting in each family's "private garden" to be developed and become systematic harvesting of an entire field, to the point that the field yielded enough food to render hunting for the family (and for the tribe in general) unnecessary. Of course, hunting did not disappear completely, it merely passed into the backstage. The hobby of hunting in our days, which can only damage the fauna of a place, is a vestige of this ancient mode of living of our ancestors.
Note: By the way, those hunters who claim that their hobby is advantageous to nature, because supposedly they do not let some species grow unchecked at the expense of others, are benighted and deluded. Nature always finds the way to reach a balance point through the method of natural selection, which has worked wonders for 3.5 billion years before hunting rifles appeared on earth. When a species multiplies, this happens because its environment allows it; now, if such multiplication conflicts with human interests, this is a problem created by us humans through our unchecked multiplication. But let us not be fooled by the hunters' idiotic argument that they supposedly offer a good service to nature (instead of serving their own interests).
Now, in which parts of the world was farming made possible? (This knowledge is not necessary for the understanding of how we passed from the anarchic-classless stage to the modern class-ful one, but it is very interesting.) Converging evidence points to the region of Mesopotamia (present-day Iraq). Firstly, there is fertile soil there, in the delta of Tigris and Euphrates. Second, plants grew in the region that were the ancestors of wheat and other cereal. And third, there were also animals, which were the ancestors of modern bulls and cows (the aurochs), oxen, horses, etc., suitable by their nature to put under the yoke. Without those animals it would be impossible to have large-scale cultivation of fields, because by using merely human hands, only small expanses of land can be cultivated. In the Americas, for example, where there were no such animals, the natives cultivated only small fields. (If you watched old westerns with American Indians riding horses, forget them: American Indians learned about horses and their benefits — as well as about guns — only after the Europeans introduced those animals into the North American continent.) In sub-Saharan Africa, where bovids exist, but which cannot be put under the yoke no matter how hard one tries, there was no land cultivation at all. (Some animals remain wild by their nature; for instance, the African elephant resists domestication, whereas the Asian elephant can be domesticated rather easily.) In Asia, where there are bovids that can be domesticated, some cultivation of land took place, but there were not many suitable plants in existence (rice only, which requires special conditions). In Australia there were neither plants to cultivate, nor animals to use (kangaroos cannot be put under the yoke) so the Australian aborigines did not develop farming. In Europe, what happened is that the practice of farming spread little by little to the entire continent, starting from Mesopotamia. (That is, without human migration necessarily involved, the practice of farming as a means of sustenance became widespread.) Geographical barriers, such as the Sahara desert and the Himalayas, in addition to the lack of suitable fauna and flora, did not allow the practice of farming to spread further in ancient times.
In general, we see that farming developed where there was the infrastructure of plants and animals. For reasons that will be explained immediately, farming gave a boost to the development of civilizations, which in turn spread and subdued all those other people who had "lagged behind" in development (American Indians, Africans, Australian aborigines, etc.). So it wasn't "the intelligence of the white race" that led to the development of technology, as some believe, but the fortuitous coexistence of features of fauna and flora at some places. (No causal connection between intelligence and skin color has ever been scientifically discovered.) All the above, and much more and interesting observations are explained in J. Diamond's seminal work, "Guns, Germs, and Steel", a 1996 publication, for which Diamond received the Pulitzer prize. To this date, nobody has managed to counter Diamond's arguments, which, after all, are based on fundamental observations of the natural world. Let us note in passing that Diamond's theory answers only the general question, "Why did Europeans develop so much technologically and eventually conquered and dominated all other peoples?" But it does not answer the more specific question, "Why, among the Europeans, did the ancient Greeks develop their civilization to unprecedented levels, to the point that many of their achievements of the classic times in arts and philosophy remain unsurpassed to this date?" Diamond's theory is moot on this question, which might be of special importance to some of us.
However, interesting as the above might be, they do not answer directly our central question, which is: "Why did farming bring about the development of technology and the emergence of social classes?" It's simple, here is why:
With farming (and animal husbandry) a surplus of food is created. Whereas the hunter-gatherer secures only as much food as is necessary for daily survival (and sometimes not even that), the farmer produces quantities, e.g., of wheat, which can be stored, and can feed a larger number of hungry children. Stored food can provide nutrition to the farmer in the following year, when perhaps the crops will not be plentiful. The hunter cannot store anything: whatever is caught must be consumed, otherwise it'll rot. Now, the farmer's food surplus is in a position to feed not only the farmer's children (who can be more than the hunter's), but also members of the tribe who do not busy themselves in farming, but have other duties, such as the duty of the soldier who protects the tribe from enemy attacks. Farmers had the luxury, for the first time, to feed people who did not contribute directly to the production of food, but instead were "selling air", such as soldiers, priests, the king and his court, the scientists of the time (e.g., the Mesopotamian astronomers, who observed heavenly phenomena and the influence of seasons on crops, or the geometers of Egypt, who could compute and rediscover the borders of fields when the latter had been covered by the mud of the Nile), the scribes (after writing systems had been invented), etc.
Those "professions" were inconceivable at the hunter-gatherer stage — impossible, to be exact. But note that, at the farmer stage, many of the new professions were mandatory. For example, if you have a quantity of wheat in your storage rooms and the neighboring tribe that's not concerned with farming is eyeing it, it's a good idea to maintain an army unit that can defend you against the enemy attack; when the Nile floods and covers the borders of fields with mud, it's good to have specialists who know how to compute and find again the lost borders; and so on. Also, the army units require discipline, which can be applied effectively through a hierarchy of ranks, on top of which stands the king, who is often also the religious leader (e.g., Pharaoh). It is not a coincidence that farming societies acquired kings, whereas the more anarchic hunter-gatherer ones did not know of such a title. (There can be a tribal chief or shaman among hunter-gatherers, but such a person does not have the absolute powers of a monarch.)
As for police, there wasn't any yet. There was the army, needed to impose order on the class of slaves, who were the captured people from among the neighboring subdued tribes. If a crime was committed, even during the later, classic Greek times, one was expected to find justice by one's own power. Of course there were laws, and indeed, written ones from some point on, but the application of such laws was not a simple matter. Even today, the police does not intervene for micro-conflicts in villages ("This olive tree is mine" — "No, it belongs to me!") although it is present. Back then, there was not even the notion of police. The crime should be serious enough for the state to intervene in some way — e.g., murder, snatching of women (who were the property of men), sacrilege of a holy place, something like that. The emergence of some form of police units is a later development, of the Roman times. Still, police did not appear suddenly, just because some insane Roman emperor envisioned it in his wild dreams, but because there were increased needs of imposing order, especially in a vast empire such as the Roman one. Without those classes of people (soldiers, policemen), the empire would collapse under its own weight. Now, one should not say, "Well, let it be, let it collapse!" But there were so many poor people whose existence depended on the existence of the empire! If their society were ruined, millions of people would die (including our Greek ancestors, mind you, since they became Roman citizens after 146 BC).
Now the succession of events should be obvious. The surplus of food, initially, created classes of people who had the privilege of eating for thinking, or "selling air", as I said before. Some among those thinking people found ways to extract metals like iron from the rocks of the earth (from which only a few soft metals, like gold, silver, and copper were extracted before, because they can be found in pure state, unlike iron, which is found only in compounds). The construction of machines became possible with the use of such metals, which were giving much greater power than before. And note that the design of machines required thought — remember Archimedes who was killed while thinking. The power of machines and thought made the development of technology possible, from the products of which our lives depend entirely today.
This last phrase is the most important one in all this introduction, so allow me to repeat it, please: our lives today depend entirely on the products of technology. Now let's see:
Suppose we decide suddenly to apply the principles of anarchy now. What would be the consequences of this decision in our lives?
What would be the first thing a good anarchist would like to dismantle? A single idea comes immediately to my mind, without much thinking, appearing more or less obvious: the police! Isn't it the police that constitutes the instrument of imposing the order of the ruling class? Is there any anarchist who disagrees with that?
Fine, we dismantle the police. Let's see what the consequences of this are.
Police is the "right hand" of the state with which the laws are implemented. Laws cannot be implemented without policemen because, for example, it is not enough to have a trial and a judge who determines a sentence; someone must be in a position to force those who were convicted to abide by the sentence. Policemen do that. Since we dismantled the police, it's unnecessary to conduct trials, because everybody will be in a position to ignore the judge's decision, or, quite simply, not appear in court at all. Therefore, judges, prosecutors, attorneys, and all those who work in the judicial system have been rendered unnecessary and superfluous. Very well, we got rid of all those air-sellers! So we delivered a deadly blow to the executive authority of the state (no more cops!), and we've gotten rid of the judicial authority in its entirety. Hooray!

Now let's go on to find out some further consequences, if you don't mind.
Suppose that a muscular guy who prefers to settle his business with his physical power forms a small gang with a few other muscular guys, and one day they come to your house. They break down the door, storm in, smash and turn everything to smithereens, grab whatever they encounter and fits in the sacks they brought with them, and just so that they don't leave you with any doubt about their intentions, they also rape all the female members of your family before leaving; perhaps they do that also to some hapless male who happened to get in their way.
Pardon me, what did you say? That the above is not included in the menu of anarchy? Why? Because we read, "Anarchism [...] promotes self-management and focuses on the personal responsibility that individuals have for the effect of their actions toward themselves and toward the society of which they are members"?
But, excuse me, it's not you who decides what the muscular guy with his muscular cohorts will do. He decides. Likewise, in a chess game it is the opponent who gets to decide his moves; you don't dictate to your opponent what moves to make! On the contrary: when you play chess you play assuming that your opponent will make the move that's worst for you. Otherwise you don't play real chess but some game for toddlers. And don't tell me that in an anarchic society there will not be conflicts, because I will ask you which planet did you come from, anyway. Not only will conflicts exist, but they will even be of the worst kind, much worse than what I described above. Without executive authority, mafia will emerge, which will impose its own laws at gunpoint. Think of Russia after the dissolution of the Soviet Union, think of Sicily since centuries ago to the present, think of Chicago at the beginning of the 20th century, and you'll probably start suspecting what kind of society without executive and judicial authority we're talking about. And for those who didn't get it yet (because even for the most obvious thoughts there are always thought-proof skulls that resist them), mafia means "might makes right", it means the imposition of unwritten and cruel laws, the violation of which is usually punished by death, and all those things that directly contradict the notion of anarchy.
Perhaps you think we might manage to form some small groups for our own self defense, as some have proposed, without allowing governmental (state-wise) security units to form. Well, this means simply that we organize and train our own, small, personal army, to defend ourselves against the neighboring small, personal army (the muscular guy's), which, in the end, might prove stronger than ours and beat us. Just like in the ancient times. The right of the most powerful person will prevail.
But wait, we didn't finish with the consequences yet. We just started.
At present we live in very populous societies — many of us in large urban areas — in which we take decisions that concern not only our immediate private affairs, but also our social affairs: how much I have to pay for the garbage collection, for a road that will be made in the countryside, for flood prevention, and so on. Naturally, we don't decide directly for these matters, nor every day, but if the issue becomes urgent — if the state asks us to pay too much, for instance — there is supposed to be a congressman elected in our region who can listen to our complaints and take some action. In large urban centers, of course, congressmen can't care less about our needs; but in small cities they listen to their voters, because a small number of voters determines whether they are elected or not. Now, in the brave new age of anarchy that has just risen, will there be any parliament? Obviously not. Parliament, that is, this all-important instrument of the legislating authority cannot exist, because what's the point of making laws if the executive authority by which these laws are implemented does not exist? (We got rid of the executive authority, together with the judicial one, I hope you remember that, right?) Consequently, at the same time we got rid of the legislating authority. If you know some way in which we can have laws (social behavior rules, that is) without being able to implement them, let me know.
Therefore, everything that concerns decision-making for the society as a whole is tossed away, too. You, the "good" anarchists may gather together and take "good" decisions about yourselves, but when the muscular guys come to the neighborhood, I don't know you and you don't know me.

Agreed?
Fine, we got rid of all authorities: executive, judicial, and legislating. Wasn't this the fundamental goal of an-archy? We achieved it, and indeed, with a single checkmating move: the dismantling of the police! Like a knitted sweater, which is un-knit in your hands by pulling just one thread of it. Now, the result was the establishment of the law of mafia, and maybe some of you believe that the consequences end there, and that perhaps we might manage to avoid the mafia rule with some other clever trick. Unfortunately, reality is ruthless: as you'll see below, not only will the Mafiosi not survive, but neither you nor anybody else will. Let's keep going.
We move on now to the technological and entrepreneurial domain. You must have noticed, I hope, that during all this time I managed to give you a headache through a computer screen, which receives data by means of something we call the Internet. This thing, the Internet data, arrive at the computer you use now not through magic, but because there is a company specializing precisely at that: bringing the data to you. The company does this because somebody has paid it (you, your dad, the internet café that you paid, the public university that we all pay,(*) somebody anyway).
Now, companies like the one I just mentioned are private enterprises, and as such they usually have an owner, or group of owners, and employees. The employees work for the owner, who, as we all know, exploits the surplus value of the employees' work, paying them just as much as they need to sustain themselves and continue working, while he receives the lion's share, etc., etc. Very well... We know all these, with the addendum that we also know one more little detail: that if there is no owner, or if the owner is some collective organization such as some workers' union, or the State (as was the case in the Soviet Union in the good ol' times), then there is no motivation for work, the company does not produce much, and after some time it goes bankrupt and we all go home. (Or, even worse, as it happened in the Soviet Union times, the State itself goes bankrupt and it disintegrates into its original constituents.) With this little detail in mind, I hope we all understand that that #%@!$@!#, the owner, who feeds from the workers' blood like a leech, remains at his post until further notice.

Now, suppose I am an employee at a company, and the bright first day of our anarchic life has just dawned, in the year 1 A.A. (After Anarcho-self-determination.)
Why should I work for my boss? I can very well get organized with my co-workers, and after they also digest and assimilate the new situation in their minds, we can all go to our boss's office and force him to relinquish to us the company title of ownership. Or, even better, we can force him to sell the company by himself and give us its value in cash. We can hold him as a hostage, if we wish, until he does it. Who's gonna prevent us? The police? Ha-ha! The police ain't no more!

Or, maybe, the private security people that our company pays? But they, too, are poor working fellows like us. They can also break in their own boss's office (after we explain the idea to them). And if, after the company is sold and we get the cash, we don't have a job anymore, so what, folks? The cash we got must be many times more than what we'd earn in our whole life. Or maybe not, but whatever the case is, we believe that it must be so, and that's why we broke in our boss's den, and we drank all the whiskey he had in his mini-bar for treating the high-class guests.
Perhaps I don't sound very serious, above, but if you can think of some really serious reason for which it is not in the workers' interests to get hold of their boss's company, please make them known to me, so I learn them, too.
I believe it might take a bit of time for the workers to really get it that they can indeed do the above without any legal consequence (legal? ha-ha!) but finally they'll get it. And they'll do it. At least some of them will, and when the rest see it and realize that it can be done, they'll do it, too. And the above is not the only way in which workers can act, in the absence of police. For example, they can form a gang — even together with their employer — and go and destroy their competitor's business at night. What one can do when consequences are absent is only limited by one's imagination.
In short, entrepreneurial activity will come to a grinding halt.
But, as I already mentioned, today our lives depend entirely on the products of technology, which are the results of entrepreneurial activity. Note that when I say "technology" I don't mean only the one of the "high tech" genre (PC's, CD's, DVD's, media–shmedia), but all the products of human toil, including chairs and scissors. Even the milk that we buy is manufactured by some company — we don't milk cows! The bread, too, which we buy from the bakery, is produced by a company: the baker's own one. (Mr. Alekos, the baker around the corner in my neighborhood, employs around 15 people in his bakery, believe it or not.) But even the baker is supplied by flour from some company, he doesn't grind the wheat! We don't produce our food by ourselves anymore, we're neither farmers (at least most of us aren't) nor hunter-gatherers. And even today's farmers buy their bread from the bakery; not even they produce most of their food from their own raw materials, but rely on others, on enterprises. When the entrepreneurial activity dwindles and dies out, we will dwindle and die together with it. By what means do you think the billions of people are sustained in life today, by thin air? Their food is manufactured by companies. Therefore...
Therefore the overwhelming majority of the population of Earth will die of famine. Initially, only the few who possessed land and animals will survive, but even they will go through rough times, because the farming machines will stop working — who will maintain them, who's going to build new ones? — and they will be forced either to find oxen and horses, as in the ancient times, or to abandon everything and turn to hunter-gatherers.
Eventually, the survivors among us will be driven back to the hunter-gatherer stage. But we won't survive even there, because our environment is not in a position to support hunter-gatherers anymore. Take a look around, observe how our country has become after centuries of exploitation through farming and animal husbandry: those dry, bald, rocky hills in southern Greece used to be all green in ancient times. We know this because the ancient Greek texts talk about animals like the wild boar, the bear, the lion, and others, which wouldn't be able to survive in today's environment because they would have nothing to prey upon. Do you see animals for hunting anywhere? Perhaps on some ridge of the Pindus Mts.,(*) yes, but how many of us can go and live on Pindus? And for how many is the game sufficient there? Further, with what shall we be hunting? Bullets are not an option, we'll soon run out of them — remember, technology is kaput! — therefore we'll resort to stones, bows and arrows, and to makeshift fishhooks, to catch an occasional fish, with the vitamin that's good for the eyes.
Parenthetically, note please that I rate the idea that anarchism can be implemented at a local level only, and not global (worldwide), e.g., only in Greece, as moronic, at best. Shortly after we dismantle structures like police and the army in our country, thus becoming an anarchic society, our "friends" and "allies" from the east will invade with their army — which, contrary to us geniuses, they won't have dismantled — using the most ridiculous excuse: e.g., the protection of Islamic minorities. Subsequently, their own rules will be imposed on us, which today include, for instance, an ever-increasing trend of forcing women to wear the Islamic turban (so that men don't get a hard-on by seeing the women's hair of the head, folks!), the imposing of much stricter policing of our lives than the present one, the suppressing and prohibition of thought that deviates from what they consider "kosher", and other such charming things. If you have more ideas similar to this one about how anarchy can be implemented, I have a request: please take your little bucket and go play somewhere else, okay?
So, what do you think? Isn't what I described going to be the result? If not, why? Could it be that our anarchic future will actually be much brighter, and it is I who's the benighted one? I'll gladly listen to your opinions. But first, you'll conclude listening to mine, because I'm not done yet. In what follows I present examples that constitute evidence (of the kind that Chomsky demanded) for the observation that all large so-called "complex systems", like a human society of billions of people, require structures. The larger the system, the more complex the structures. And vice-versa: complex systems with a large number of members and lacking structures do not exist. Let's move on to review the examples.