That was the froggy's story, recounting how our common ancestors (common between us humans and the frogs) gradually came out of the water during those fateful millions of years, in the late Devonian period: gradually, and yet "abruptly". Putting now the above-mentioned fossils onto the colored strip that was shown earlier, we obtain roughly the following diagram:
So we see that in the case of the fish-to-amphibian transition we were lucky enough to have found just the right kind of fossils that document precisely that transition. Naturally, the search is not over, so the collection keeps being enriched, decade after decade.
The documentation of this transition rests on the tireless efforts of paleontologists who go in search of fossils and dig the rocks, often in hostile, forbidding places, such as northern Canada and Greenland. In other cases, scientists have not been so lucky, or there hasn't been so much effort exerted yet. After all, the geological past time is vast, the evolutionary tree enormous, and the number of transitions from species to species overwhelming. Luckily, similarly compelling transitional fossils have been discovered in the reptile-to-bird transition, and in the common-ape-to-intelligent-ape (human) transition.
We should note that gaps in the fossil record will always exist. We can only make them narrower and narrower, but we can't make them disappear entirely because that would mean having a complete chain of ancestors and descendants, often from hundreds of millions of years ago. It is meaningless to observe that there is a gap, demand a fossil that belongs there, and after the fossil is found to claim that now there are two (smaller) gaps instead of the earlier single one.
The above colored strip might give the impression to the reader that evolution proceeds linearly: from fish to amphibians, then to reptiles, and so on. Nothing can be further from the truth: as I already mentioned, evolution proceeds in a tree-like fashion, not in a chain-like fashion. For example, even after the late Devonian period when the first amphibians and later the reptiles appeared, fish continued to evolve in the water, and new fish-forms appeared that were not present back then. Likewise with amphibians: there were no frogs among the first amphibians; frogs are late comers in the amphibian class, they appeared after the emergence and dominance of the reptiles.
To visualize the idea that evolution proceeds in a tree-like fashion and not linearly, and also the idea of adaptive radiation, consider the following animated drawing. As before, the red part represents aquatic environments (sea, rivers, lakes), and the green represents terrestrial environments (land). The first vertebrates appear first as a short blue line on the left, in the water, and they start radiating, which means, branching quickly and making up many related but different species. Each of these species occupies a niche. Then these species branch again, and many more species are created, until all the available niches within the aquatic (red) environment are occupied. Now take a look and see what happens after all the niches in the red area are occupied in the animated figure below: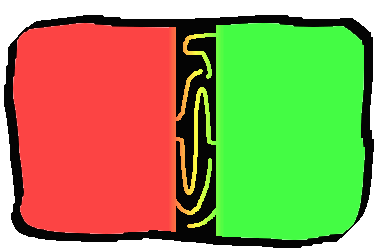 Between the aquatic and terrestrial area there is a black division with some "aisles". These aisles represent some specialized niches that exist "between" water and land: niches such as those that Tiktaalik, Ichthyostega, and the rest of the extinct transitional creatures occupied. I drew them as narrow aisles to reflect the observation that only very specific conditions in evolution will lead through them. After the middle aisle — which is the only one that leads vertebrates from water to land in this drawing — is occupied, species after species, vertebrates (now transformed to amphibians) find themselves in an unoccupied territory (green), a terra incognita, a land with a large number of environments where no other large-bodied animals exist yet. (There are only insects and plants on land at that time.) But, as is well known, "nature abhors a vacuum", and so adaptive radiation starts once more, this time on land, with amphibians and soon the rest of the terrestrial vertebrates (reptiles, mammals, birds) occupying every terrestrial nook and cranny. Notice that at some point niches that lead back to the water are explored (see the top-most aisle).(*) These are supposed to be mammals like the ancestors of whales and dolphins, which are related to today's even-toed mammals (the Artiodactyla), such as cows, hippos, and pigs. At a later point their decendants (whales and dolphins) really ventured permanently into the water, an event represented by the late branch that goes well into the red area. But whales and dolphins do not radiate again into the water — why? Because most niches are already occupied there, by the fish! If the fish were miraculously wiped out from our planet, then whales and dolphins would radiate adaptively in the water, making it inhabited and teeming with life once again, this time by aquatic mammals. Other aisles lead also back toward the water but not quite (think of seals, sea otters, the walrus, water snakes, crocodiles, and the like).
Notice that there is something not shown in this animation: species do not only appear, they are also extinct, and no previously drawn line is ever deleted in the animated figure. Well, I admit I couldn't work endlessly to make this animation even more realistic. Besides, remember to interpret each branching point not as a species, but as a niche in that figure. So, even though species are extinct, niches are somewhat more persistent in time (though not eternal).
Why isn't the land occupied again and again by fish? Why don't the likes of Tiktaalik appear again?
Part of the answer is given by the diagram above: niches that would lead from water to land are already occupied, and when a niche is occupied you can't easily push its inhabitant out (drive it to extinction), and occupy it yourself. Even if this happens once, then your descendant species would have to push again another occupant out of its specialized niche, along the evolutionary "path" that leads to land. (That's an abstract path, of course, not a physical one.) So, a series of unlikely events would have to happen, which makes the probability exceedingly small. Still, it is not impossible that it can happen. Today, for example, there are species of eel (which are bony fish) that slither on moist land (e.g., grass) and move from pond to pond. It is not impossible that after several million years their descendant species will be even more land-going, competing in niches that today are occupied by snakes. One never knows what evolution has in stock for the future.
The adaptive radiation that occurred when vertebrates came out of water and occupied the land was not an exceptional event. Such events have happened all the time. Another such grand-scale adaptive radiation event was when some reptiles (Archeopteryx and its relatives) developed feather-like structures, perhaps initially for gliding from tree to tree, as some modern squirrels do, or for leaping onto trees for refuge — the exact environmental pressure is still unknown — thus becoming better and better at gliding, and then flying, eventually conquering the high air, which provides plenty of new and unoccupied niches. Thus we got the birds. Darwin himself observed another, smaller-scale result of adaptive radiation: the numerous species of finches on the Galápagos islands: finches that when they arrived there they found no other birds of their size on the islands, and so they discovered their own terra incognita (of niches), radiating into a large number of finches. (That was a crucial observation for Darwin while he was developing the theory of evolution.) There have been other, more spectacular events of adaptive radiation (at least from our human point of view), ones that most likely will never happen again (at that scale — unless all multicellular creatures are wiped out). One is the radiation during the Ediacaran period, (~630 to 540 M. y. ago) when multicellular creatures emerged; and the other is the event of the Cambrian explosion, when some of the Ediacaran animals evolved and found the entire Earth unoccupied by beings of their size. At that time (~530 M. y. ago, during the Cambrian period) the basic body architectures for animals were honed by natural selection. Many of them perished, and the ones that remain today form the various phyla of animals, i.e., the most general groups in the animal kingdom, such as the mollusks (snails, bivalves, octopuses, and such), the arthropods (insects, spiders, crabs, and such), the chordates (vertebrates and a couple more groups — that's the phylum where we humans are), and several more phyla.
Now, the froggy appeared a bit disappointed in the end while describing how amphibians lost their dominant role on land, right? What could the froggy mean? There is no small number of amphibian species today. Here is approximately how many species exist in each of the vertebrate classes:
jawless fish: ~50
cartilaginous fish: ~900
bony fish: ~22,200
amphibians: ~6,200
reptiles: ~8,250
mammals: ~5,500
birds: ~10,000
(The jawless fish is an even earlier class of fish than the cartilaginous ones.) So, excluding the bony fish, of which there are really many, amphibians do not really fare too badly in terms of number of species; they're clearly more than mammals. (And "reptiles" is not just one evolutionary branch, it's a grab-bag for "terrestrial vertebrate that's neither amphibian, nor mammal, nor bird".) What the froggy meant was that the amphibians appeared to be the lords on land (of some land, close to water) at one time, but were then forced by the rest of the land-going vertebrates (reptiles and mammals) to retreat to specialized niches. Initially amphibians had the forms of some of today's reptiles, such as the crocodiles, but later such forms went extinct by similar reptiles. Today amphibians are mostly tiny animals — most of them are frogs and toads — and they survive at the "edge" of environments, where freshwater meets land. In that sense they are "pushed into a corner", and represent "left overs" of a once thriving category of creatures.
There are many other examples of such "left over" categories of beings, and their study (or mere knowledge of them) gives us a deeper understanding of how evolution proceeds. There are left-over mammals (the monotremes, 5 species only) that lay eggs; left-over birds (the Struthioniformes: ostrich, emu, and a few more, 10 in total), which are large-bodied and don't fly; left-over reptiles: the tuataras (only two kinds) that possess a third eye; left-over fish, which we met already, such as the lobe-finned ones (coelacanths, lungfish: 8 species); left-over insects, such as the silverfish, which don't fly; and even pre-insects, such as the centipedes and millipedes; and so on. You name a group of living beings, and you can find a left-over group among them, almost always.
The lesson of the existence of the "left overs" is that evolution does not seem to proceed with a pre-planned design; it looks much more haphazard than planned. Why is that? Because if there was a plan, the "left overs" would be evidence of failure of that plan. But this is a subject that can be more thoroughly explained in a different article.